The Champiot is Back!!!
¡ LOS CHAMPIOTS SE ESTAN VENDIENDO RAPIDO !
NUESTRA COMPAÑIA, FEREZ INDUSTRIES, INC., UNICA FABRICANTE DE "CHAMPIOT", LA GRAN MAQUINA REMADORA SOBRE RUEDAS, la mejor, la mas fascinante y estimulante, la mas durable, maquina para hacer ejercicios fisicos en el planeta, tiene el placer, junto con la nostalgia, de entregar uno de los ultimos modelos "ARMPOWER" (diseñado tanto para personas sanas, como para nuestros amigos con discapacidades de las extremidades inferiores). Este de hoy, fue entregado a Mrs. Zurich, de Pompano Beach, Florida, U.S. Ella vino a recogerlo a Miami. Estaba inmensamente feliz.
Uno de nuestros distinguidos colegas bajo de su consultorio en el Medical Plaza, para presenciar la transaccion.
El sucesor del modelo Armpower, el "ARMPOWER 16", con el mismo proposito, esta a punto de entrar al mercado, junto con los modelos "ULTRA 22", diseñado para individuos sanos solamente, y el modelo "OMNI", siendo este para ser gozado por todos, en tierra y en agua, y para que una persona pedalee detras de la persona que rema. Todas estas magnificas maquinas tienen PATENT PENDING.
Mas detalles: Por favor visite nuestra Pagina de Internet: the champiot.com o llame al departamento de ventas: 786-343-3130.
THE CHAMPIOTS ARE SELLING FAST!
OUR COMPANY, FEREZ INDUSTRIES, INC., MAKER OF "CHAMPIOT", THE GREAT ROWING MACHINE ON WHEELS, the best, most fun- filled, most durable, exercise machine in the planet, has the pleasure to deliver one of the last "ARMPOWER" models, (designed for both, able-bodied individuals, and for our friends with disabilities of the lower extremities). This one, being picked up by Mrs. Zurich, from Pompano Beach, Florida, U.S. One of our dear colleagues came down from the Medical Plaza, to witness the transaction.
The succesor of the model Armpower, the "ARMPOWER 16", with same purpose, is about to hit the market, along with the models "ULTRA 22", designed for able-bodied individuals only, and the "OMNI", this one for everyone, on land and water, for pedaling behind the person rowing. All these magnificent machines are PATENT PENDING. More details: Kindly visit our website: thechampiot.com or call sales dept.: 786-343-3130.
HELLO, MY FRIENDS OF "CHAMPIOT", THE GREAT ROWING MACHINE ON WHEELS. YOU ARE SEEING THE VERY FIRST PHOTOGRAPHS OF OUR NEWEST MODEL, "THE ULTRA 22″. THIS MACHINE IS LIGHTER, LESS EXPENSIVE, MORE TRANSPORTABLE, MORE SUITABLE TO BE RENTED IN PARKS, BEACHES AND ARENAS AND, SOMETHING ELSE, WITH THE OPTION TO CARRY THE REMOVABLE DEVICE FOR A PERSON TO PEDAL ON THE BACK OF " THE ULTRA 22 ", WHILE THE PERSON IN FRONT ROWS. JUST LIKE ITS PREDECESSOR, THE " ULTRA " MODEL, " THE ULTRA 22 " HAS BEEN DESIGNED FOR PEOPLE WITHOUT PHYSICAL DISABILITIES.
REALLY VERY SOON WE WILL ALSO PRESENT THE NEW MODEL "THE ARMPOWER 16" DESIGNED, LIKE ITS PREDECESSOR,A THE "ARMPOWER" MODEL, FOR OUR FRIENDS WITH DISABILITIES OF THE LOWER EXTREMITIES. THIS NEW MODEL, "THE ARMPOWER 16" COMES WITH THE SAME ADDITIONS AND ADVANTAGES, AS THE ONES DESCRIBED FOR THE "EL ULTRA 22″ MODEL. BUT THAT IS NOT THE END OF THE STORY: THE " ARMPOWER 16″ MODEL IS TRANSFORMED, OPTIONALLY, INTO THE " OMNI " MODEL.
ALL THESE NEW MODELS HAVE "PATENT PENDING".
MORE DETAILED INFORMATION, YOU CAN FIND IT AT WWW.THE CHAMPIOT.COM, OR BY CALLING THE SALES DEPARTMENT, AT PHONE # 786-343-3130.
---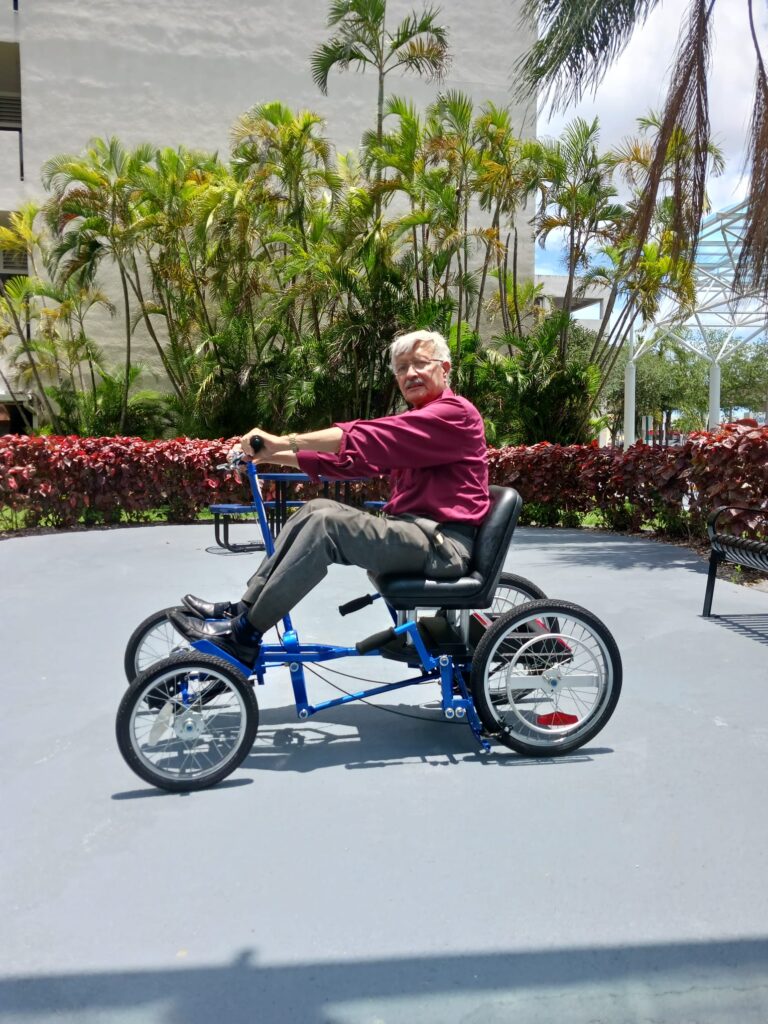 HOLA, MIS AMIGOS DE "CHAMPIOT", LA GRAN MAQUINA REMADORA SOBRE RUEDAS. ESTAN VIENDO LAS PRIMERISIMAS FOTOGRAFIAS DE NUESTRO MAS NUEVO MODELO, " EL ULTRA 22″.ESTA MAQUINA ES MAS LIVIANA, MENOS COSTOSA, MAS TRANSPORTABLE, MAS ADECUADA PARA SER RENTADA EN PARQUES , PLAYAS Y ARENAS Y, ALGO MAS, CON LA OPCION DE PORTAR EL REMOVIBLE DISPOSITIVO PARA QUE UNA PERSONA PEDALEE EN LA PARTE TRASERA DE " EL ULTRA 22 ", MIENTRAS REMA LA PERSONA QUE VA ADELANTE.IGUAL QUE SU PREDECESOR, EL MODELO "ULTRA", " EL ULTRA 22″ HA SIDO DISEÑADO PARA PERSONAS SIN IMPEDIMENTOS FISICOS.
VERDADERAMENTE MUY PRONTO LES PRESENTAREMOS EL TAMBIEN NUEVO MODELO " EL ARMPOWER 16 " DISEÑADO, COMO SU PREDECESOR, EL MODELO " ARMPOWER ", PARA NUESTROS AMIGOS CON DISCAPACIDADES DE LAS EXTREMIDADES INFERIORES. ESTE NUEVO MODELO , " EL ARMPOWER 16 " VIENE CON LOS MISMOS ADITAMENTOS Y VENTAJAS, COMO LOS DESCRITOS PARA EL MODELO " EL ULTRA 22 ". PERO ALLI NO PARA LA COSA: EL MODELO " ARMPOWER 16″ SE TRANSFORMA, OPCIONALMENTE, EN EL MODELO " OMNI ".
TODOS ESTOS NUEVOS MODELOS TIENEN " PATENTE PENDIENTE".
MAS DETALLADA INFORMACION, USTED PODRA ENCONTRARLA EN WWW.THE CHAMPIOT.COM ,O LLAMANDO AL DEPARTAMENTO DE VENTAS, AL TELEFONO # 786-343-3130.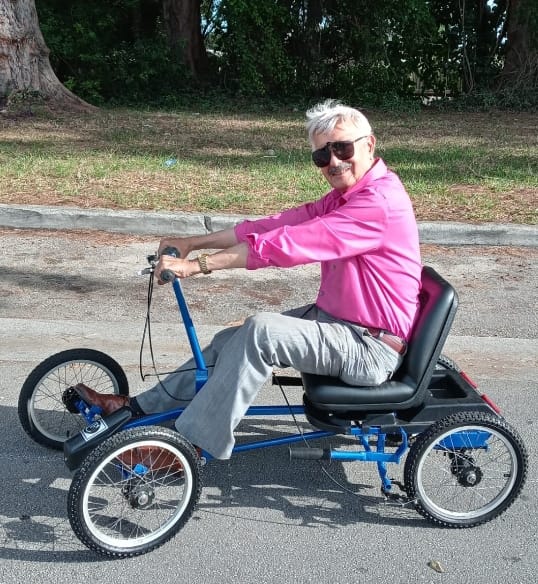 Dear friends & family,
Great News!
Ferez Industries, Inc. has been approved by TriCare, for the ARMPOWER model, for disabled veterans.
THE CHAMPIOT ARMPOWER(For able-bodied riders and riders with disabilities of the lower extremities)will fill a void, making possible that instead of being admitted to the hospital centers to receive rehabilitation, the affected individuals will achieve the same objective while they are having fun! The fundamental difference is that in The ARMPOWER, the locomotion and steering are obtained with the same handlebar with no need of using the legs. We guarantee to all users from 7 to 80 years old that they will enjoy the "outdoors", while they are doing an aerobic-cardiovascular exercise, for many years, with this extraordinary machine. Like it's brother, the ULTRA model, THE CHAMPIOT ARMPOWER DISPLAYS THE SEAL OF QUALITY OF THE CHAMPIOT BRAND.If you have any questions please do not hesitate in contacting us at any time.
Watch the model ARMPOWER, the one in color blue, IN ACTION, at the beginning of this video.
Vea el modelo ARMPOWER, el de color azul, EN ACCIÓN, al comienzo de este video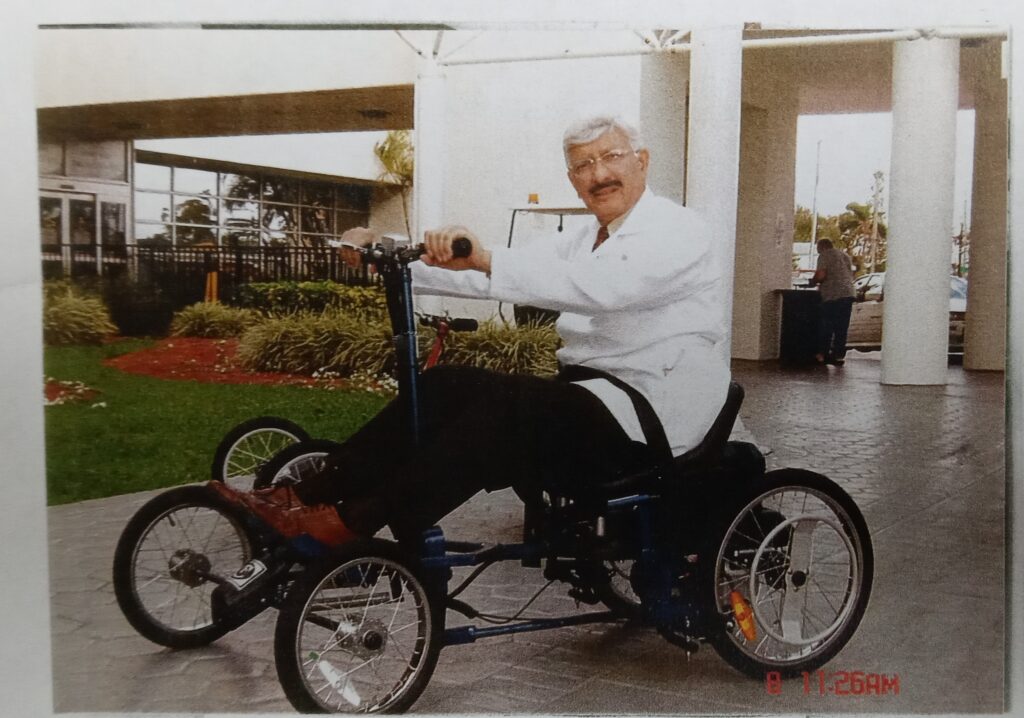 Price of Champiot Ultra: $ 2,100,00
Price of R P Chariot ( Bicycle accessory: extra $ 500.00 ),
grand total : $ 2, 600.00
For more information about our products or how to order please call: 786-317-1240 You will be contacted directly by the founder and C.E.O. Dr. Marcio C. Ferez
Hello my dear friends and relatives.
The following is an informal up nostalgia photos ,and current videos, of the several models of "The Champiot","The Great Rowing Machine On Wheels", designed, produced and patented by Ferez Industries, Inc., many of which are already being enjoyed on the five continents.The model " Ultra" is to be used by healthy individuals, and the model " Armpower"is to be enjoyed by healthy people,as well as by our friends who may be paralized from the waist down,or with disabilities of any type,and even total absence of the lower extremities.The model " Omni Rower" is coming soon!
You can order any model you desire.
P.S. As soon as we receive the wheels,tires and other bicycle parts,which are being delayed because of the current supply chain crisis,we will ship to you "The Best , Most Fun-Filled and Durable Exercise Machine on Earth".
Please feel free to contact us at any time.
Hola,mis estimados amigos y parientes.
La siguiente es una presentacion informal de fotos del recuerdo,y videos actuales,de varios modelos de "El Champiot", "La Maquina Remadora Sobre Ruedas",diseñados, producidos y patentados por Ferez Industries,Inc., muchos de los cuales estan ya siendo disfrutados en los cinco continentes.El modelo "Ultra" es para ser usado por individuos sanos;y el modelo "Armpower"es para ser disfrutado por personas sanas, asi como tambien por nuestros amigos que pueden estar paralizados de la cintura para abajo,o con discapacidades de cualquier tipo,y aun total ausencia de las extremidades inferiores.¡El modelo "Omni Rower" esta a punto de llegar!
Usted puede ordenar cualquiera de los dos primeros modelos.
P.S. Tan pronto como recibamos las ruedas,las llantas y otras partes de bicicleta que usamos,cuya entrega esta siendo demorada debido a la crisis actual,la compañia le enviara "La Mejor, Mas Excitante y Mas Durable Maquina Para Hacer Ejercicios Fisicos del Planeta".
Por favor, comuniquese con nosotros en cualquier momento.
Champiot Ultra
$2,100.00Buy now
Champiot Arm Power
$2,100.00Buy now
Ferez Industries, Inc.
For all Sales information please call: 786-343-3130
Office: 786-317-1240
Email: [email protected]